on
December 26, 2019
at
1:06 am
Season's Greetings! I am posting this past midnight my time, meaning it's currently December the 26th here… So I suppose it's time I wish a slightly belated Merry Christmas to those of you who celebrate Christmas morning on the 25th, and a definitely belated Merry Christmas to those who – like me – celebrate Christmas Eve on the 24th, and also a hearty "Hiya!" to those of you who do not celebrate Christmas at all!
Anyway, I've made one Bonus Comic (which was previously used as a voting incentive) available to view again for those who missed it, right here.
But also…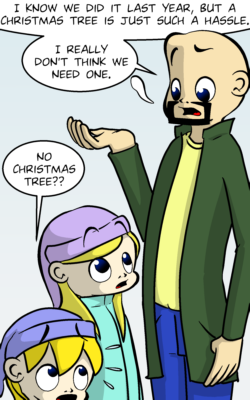 There's a new 2×3 Christmas special up in the VIP section! Unfinished for now (missing the last couple of pages), because I wanted to get it up during Christmas and, well, it wasn't finished. Remaining pages will be added later.
And if you're wondering about the VIP section, it's a little something extra that's available to VIP tier patrons. It also contains higher resolution versions of all the Twice the Triplets comics, and more…
Ah well, that's enough shilling for now. I hope you all are having a wonderful Christmas. The comic will return some time in the new year… New decade. Whoa! Anyway – I hope to see you all back here then!
Merry Christmas!